Our first month of Small Business Grants entries is almost over, and we've been receiving some great applications from businesses keen to secure £5,000 to invest in their business.
If you haven't already applied for Small Business Grants, you have just four days until our competition deadline. After that, we'll be compiling our shortlist for the month to send off to our panel of judges. For more information about who is judging our competition and the criteria, please take a look at our home page.
Remember, Small Business Grants, the new monthly competition from SmallBusiness.co.uk, is free and simple to enter and our grant does not have to be paid back. If you run a small businesses at least one year old with a turnover between £50,000 and £500,000, you can apply here. All we ask is that you fill in a single form talking about your business.
For our first month, the top six shortlisted applicants will each be invited as our guests to the British Small Business Awards, the UK's leading celebration of the small businesses sector.
This is a great opportunity to mix with the exceptional small companies that represent the beating heart of our economy, as well as to meet the service providers that help them to start, grow and thrive.
Good luck for September's competition!
Our Small Business Grants scheme is sponsored by Travelers, A City Law Firm, Melt, and Shelley Stock Hutter. These selected partners are specialists in the small business sector and are focused on offering products and services tailored for SMEs. For more information about what they can offer your business, please visit our sponsors page here.   
We would also like to thank our partners, SaveTheHighStreet.org,  the Business Show 2017, No Brainer, the Forum of Private Business, London Chamber of Commerce, Angel Academe, Luxaviation UK, Caxton, Progressive Property, The Self Storage Association and The Brew.   
Our Sponsors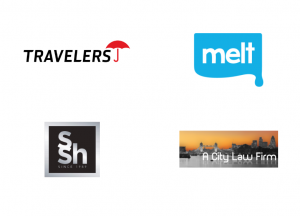 Our Partners