The deadline has now passed for November 2017's Small Business Grants, and our team at SmallBusiness.co.uk has narrowed down the list of applicants to a shortlist of six. They are:
Cake Bag
Cake Bag is a subscription box service for cake decorating tools and equipment, launched in 2016 by Rachel Sanders.
Cuffs & Co
Cuffs & Co has been in business for just over 14 years, founded from a passion in unusual cufflinks by its managing director and founder Phil Pinder.
GrafikLanguage was founded in September 2016, creating copy for cross-channel content.
Founder Adam Graham's aim is to offer 'no-nonsense business growth' for advertising and marketing agencies.
Synap is an online education platform that uses memory science and AI in an effort to help people learn more in less time.
Tidy Books is a kid's bookcase company, began in Geraldine Grandidier's violin workshop in 2004.
Congratulations to our shortlisted companies for November!
This shortlist has now been sent off to our panel of independent judges, who will make their decision on the winner in the coming days.
Our Small Business Grants scheme is sponsored by Worldpay, Travelers, Funding Options, Shelley Stock Hutter, and Sage. These selected partners are specialists in the small business sector and are focused on offering products and services tailored for SMEs.
We would also like to thank our partners, SaveTheHighStreet.org, the Business Show, No Brainer, the Forum of Private Business, London Chamber of Commerce, Angel Academe, Luxaviation UK, Caxton, Progressive Property, The Self Storage Association and The Brew.   
Our Sponsors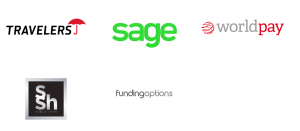 Our Partners