The winner of our first Small Business Grants competition is revealed as Techsixtyfour, collecting £5,000 to invest in the development of the business.
The company's flagship product, The Gator Watch, is a wearable mobile phone and tracker for children which can be used almost anywhere in the world.
After getting her product stocked in John Lewis, founder Colleen Wong saw sales take off and is now preparing to launch the Gator Watch into Europe.
'I'm so happy to have won the Small Business Grant,' Wong says. 'We are currently expanding to Germany, France, Italy and Spain, and this money will really help out with marketing for these efforts.
'As a mum of two toddlers, now aged two and three, I know just how hard it is to balance work and family. I have now hired 14 flexible working staff who all work on contract (so not employees) and 12 of them are mums of very young children.
'I'm going to treat my staff to a nice Christmas meal – they work so hard for the company.'
Our judges were impressed by the level of innovation on show. Ian Cass, managing director of the Forum of Private Business says, 'This is a company currently with a small turnover but huge scalability, showing unique technology and boasting impressive stockists already.'
Apply now for October
Many congratulations to Techsixtyfour and all of our shortlisted entrants for September. If you haven't already applied for Small Business Grants, October's competition is now open! Remember, entering is free and simple and our grant does not have to be paid back. If you run a small businesses at least one year old with a turnover between £50,000 and £500,000, you can apply here. All we ask is that you fill in a single form talking about your business. Please note: companies may only apply for this competition every three months.
Our Small Business Grants scheme is sponsored by Worldpay, Travelers, A City Law Firm, Melt, and Shelley Stock Hutter. These selected partners are specialists in the small business sector and are focused on offering products and services tailored for SMEs. For more information about what they can offer your business, please visit our sponsors page here.
We would also like to thank our partners, SaveTheHighStreet.org, the Business Show 2017, No Brainer, the Forum of Private Business, London Chamber of Commerce, Angel Academe, Luxaviation UK, Caxton, Progressive Property, The Self Storage Association and The Brew.
Our Sponsors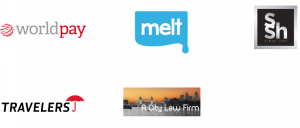 Our Partners