The winner of November's £5,000 Small Business Grants competition is revealed as Synap, an educational learning platform for students, professionals and hobbyists.
Uses memory science and artificial intelligence, Synap lets people engage with short, multiple-choice quizzes, and uses the data generated to create a personalised learning plan for each user, based on their own strengths and weaknesses.
Originally created in 2014 by James Gupta and Omair Vaiyani as a way to help with their own exams, the system is now used by tens of thousands of students and professionals, across a range of fields, to improve job and exam performance.
Going full time
Having just graduated from Leeds University, Gupta and Vaiyana are now running the business full time, and consider themselves to be in a better position to approach educational institutions, as well as corporates, to offer training solutions for their students and employees.
Gupta says the plan is to spend £2,000 of the grant money on marketing materials (design/events/stand equipment, brochures, flyers), £2,000 on digital marketing (PPC/social ads), and allocate £1,000 for miscellaneous expenses.
'The £5,000 comes at a perfect time when we were looking for a way to scale up our sales/marketing pipeline and start bringing in new clients across a range of industries,' he adds.
'Innovative and scalable'
Our judges commended Synap on its advanced technology, exciting expansion plans and key partnerships forged.
Sarah Turner, CEO of Angel Academe says, 'Synap is an innovative and scalable proposition. The technology is achieving impressive results for students and the business is set to grow through excellent partnerships.'
Patrick Margetson-Rushmore, founder of Luxaviation adds, 'Synap's partnership with the Oxford University Press is very impressive, but it is the dramatically increased pass rate experienced by mytaxi in its Small Vehicles Licensing Exam that really stands out.
'Synap exhibits the ability to appeal to various types of businesses and, therefore, a wide customer base. It is this scalability that makes it the most impressive company on November's shortlist and deserving of the £5,000 grant.'
Our Small Business Grants scheme is sponsored by Worldpay, Travelers, Funding Options, Shelley Stock Hutter, and Sage. These selected partners are specialists in the small business sector and are focused on offering products and services tailored for SMEs. For more information about what they can offer your business, please visit our sponsors page here.   
We would also like to thank our partners, SaveTheHighStreet.org,  the Business Show 2017, No Brainer, the Forum of Private Business, London Chamber of Commerce, Angel Academe, Luxaviation UK, Caxton, Progressive Property, The Self Storage Association and The Brew.   
Our Sponsors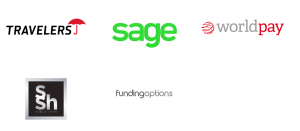 Our Partners